At Keltbray we recognise that our people are the significant differentiating factor in our performance, and Keltbray Training acts as that support for our operational business, to ensure we get the right people, in the right place, at the right time.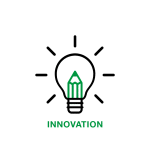 Keltbray Training is a specialist in training and development in the construction and infrastructure sectors, providing a wide range of courses and vocational qualifications, apprenticeships and professional development.
In 2019, Keltbray Training delivered in excess of 76,000 hours of training and development services to the Keltbray Group, and many more to its clients, charities and communities.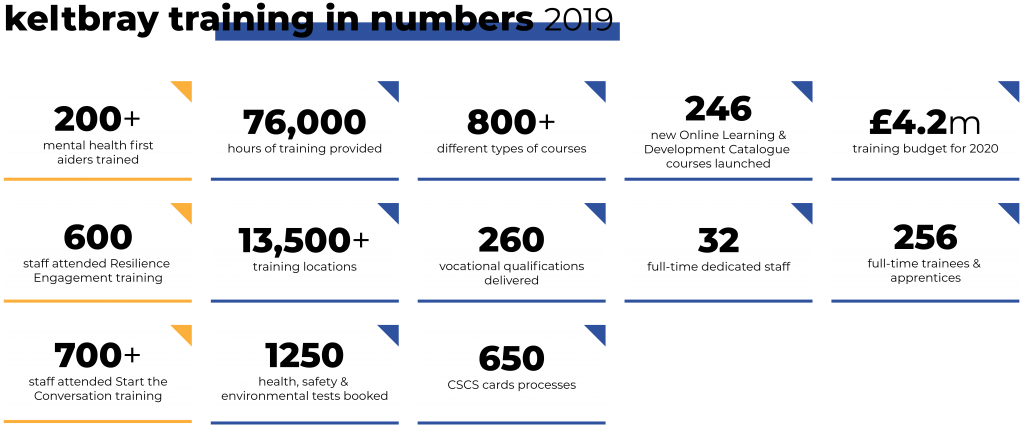 Accreditation
CITB Approved Training Organisation

Keltbray Training delivers a variety of construction training courses which are designed to place emphasis on practical strategies for real working environments to a defined and industry-agreed training standard.

CITB Site Safety Plus Centre

Site Safety Plus (SSP) provides the construction industry with a suite of courses to enhance career development helping to maintain a safe workforce.

Railway Safety Critical Training

Accredited to deliver Track Safety and Engineering courses, our team of professional trainers and assessors has a wealth of knowledge in all aspects of railway engineering to help deliver a high quality learning experience to our learners.

Energy and Utility Skills Register Approved Provider

Keltbray is an approved provider for the Level 3 Trailblazer overhead line apprenticeships. This enables us to not only bring new recruits into the business through an industry recognised apprenticeship, but also to upskill and multi-skill our existing workforce.

NDTG

Keltbray is a NDTG approved centre to deliver training specific to the demolition industry.

NVQ Centre

Keltbray is a fully accredited NVQ Centre covering over 60 qualifications from Level 2 to Level 7 supporting the construction industry's aim of a fully qualified workforce.

NPORS

Keltbray Training is accredited by the National Plant Operators Scheme to deliver training and carrying out testing on a range of construction plant, small tools and other health and safety related activities.

JAUPT Driver CPC Centre

Keltbray is an approved provider of Driver CPC allowing us to ensure full compliance of not only our own fleet drivers but also our sub-contractors.
Case Study: TfL Western Hub at Earls Court
Keltbray Training has partnered with Transport for London (TfL) to deliver development and training activities to equip learners with the necessary knowledge and skills to gain sustainable employment in the construction industry.
This mainly consists of enabling works that will include logistics, housing stock reduction and ground preparation works. The framework of learning has been considered to not only qualify the learners but also to offer additional knowledge that will help with the smooth transition into the workplace.
There are many challenges and initiatives that the industry is facing such as the high level of mental ill health and increased focus on Fairness Inclusion and Respect. These are acknowledged and included throughout our frameworks and tools, and techniques and technology will be deployed throughout the learning period to ensure our learners are mentally, emotionally and physically prepared to enter the workplace.
What our clients say about us
"A big thanks to the 'booking team' at both Basildon and Crewe for their continued assistance and professionalism".
"Very impressed with the facilities at Keltbray Training".
"Everyone at Keltbray Training is very helpful, they always try their best to help us and we know the level of training offered is top class".
"The course was a real eye-opener, I thank Keltbray for the opportunity to attend".
"The course was fantastic and very well structured".
"The trainer was very approachable, he made me feel at ease and was very helpful during the entire course".
Construction News Award
In July, Keltbray Group won the top gong for Training – the Training Excellence Award – at the glittering Construction News Awards 2019, the most prestigious and coveted awards in our sector.
To win the Training Excellence Award, Keltbray beat eight others in demonstrating a positive and progressive approach to training and developing staff in 2018. Judges were highly impressed by our training initiatives, as well as the innovation we've shown in developing new training methods and the time allocated to training. They also praised our strong leadership and the commitment we've shown in embedding a culture of training across the Keltbray Group.
John Price, Group Managing Director of Built Environment Services, Aaron Davis, Group Learning & Development Manager, and James Dawson, Group Training Manager, were there to accept the award.
Commenting on the win, Holly Price, Training & Development Director at Keltbray, said
"I'm so proud of the Keltbray training team who work tirelessly to raise standards not just at Keltbray but in the wider industry too."
Social Value
In 2019 the Social Value team was as committed as ever to engage with and add value to the communities in which Keltbray operates.  In May, this dedication was recognised when the team was shortlisted for the National Commitment to the Community Award at the 2019 Better Society Awards.
Since 2017, the team has recruited over 100 people from local and disadvantaged communities, with 31 being recruited in 2019.  This has been achieved by establishing a supportive employment programme and building networks with colleges, community groups and charitable organisations.
In 2019, the Social Value team either arranged or supported over 90 community projects and events such as careers fairs, focused on providing advice and pathways into the construction industry, as well as fundraising events and industry round-tables.
The following are just a few of the community projects the Social Value team was involved with in 2019.
Keltbray at HS2: Netley Primary School celebrate Harvest Festival
In May 2019, a team of Keltbray employees who are currently working on the HS2 project created a new micro farm for the children of Netley Primary School, located in Euston.
The team relocated existing raised planting beds, built additional beds for extra planting space and donated eight tonnes of top soil. The school celebrated Harvest Festival back in October, reaping their first crop of vegetables grown from the beds the project team helped construct.
The school has been able to grow a number of crops from its newly refurbished micro farm, including beetroots, onions, peas, runner beans, corn, carrots, peppers and tomatoes. Once the students harvested their crops, they then delivered them to the canteen and all were used to cook a healthy and nutritious school lunch. This showcases sustainability at its finest, and demonstrates a number of Keltbray's core values. This form of community engagement is just one of the ways we seek to add real social value to the communities we work in.
Since the harvest, we have been informed that both children and parents are continuing the work we started, with many now planting their own crops and flowers. We are pleased to have been a part of building something that we hope becomes a legacy, whilst continuing to further support engagement within the community in the future.
Elays Community Centre Battersea
Elays is a community centre that attempts to:
Give control back to the community
Help bridge the gap between local authorities, institutions and the wider community
Our Phase 3 team was initially approached to strip out the bathrooms and toilets of the centre, but it soon became apparent the backrooms could also do with some much needed TLC. As such, both our Phase 2 and Phase 3 teams combined to deliver the best outcome for the community centre. This included the knocking down of walls and breaking out floors.
One of the volunteer site operatives said:
"It's nice to be able to do a small project like this. Not only does it give us a chance to give back to the local community, it's also nice to go from some of our noisy, busier sites with hundreds of people to small, intimate projects like this."